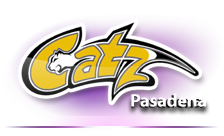 We are excited at working alongside our partners CATZ Pasadena and USC Human Performance Lab in testing our players and understanding more about their bodies and risk of injury as well as highlighting the areas needed to improve our players physically.
This is revolutionary in the youth soccer community and we are proud to be teaming up with the leaders in this field!


Every Player in our club U11-19 has the opportunity to train an additional night per week with the professionals at CATZ to increase Physical Capabilities.


As we begin the LA Premier FC fall soccer season, we want to take this opportunity to share a bit about the Catz philosophy and approach for developing faster, stronger, fitter, injury-resistant soccer players. We develop better soccer athletes by improving efficiency of movement; players learn how to link movements across multiple joints and muscle groups to maximize their movement potential (i.e. they become more athletic). We physically prepare players so that coaches can focus on technical and tactical concepts of soccer. Training at Catz, combined with the coaching expertise of the LA Premier FC staff, puts players in the best position to succeed on the field.


I. Movement Progression
We are currently transitioning between summer (tournaments and pre-season) and fall (in-season). Throughout the summer our focus has been on a training progression explained in the diagrams below:
General (Global) Skills ===================è Specific (Local) Skills
-Fundamental movement patterns -Complex, sport-specific movements
(squat, lunge, single leg squat) (reactive change of direction, tracking
-Neuromuscular development visual cue while running, controlling and
-Coordination withstanding force on a single leg)
-Motor Control -Proper loading for explosive first step,
-Balance leaping ability, and deceleration of
momentum
We believe that the natural movement progression is as follows:
Flexibility/Mobility ===è Strength ===è Speed/Power/Explosiveness
Proficiency is achieved through high volume, repetitive movements performed with minimal rest until they become automatic. As we move to in-season training, our goal is for the players to maintain gains achieved during the summer period and minimize their risk of injury.
Below is a list of important in-season concepts:
 Maintenance of mobility, strength and speed gains
 Improvement of muscular and cardiovascular endurance to perform skills while fatigued
 Reduce the risk of injury while fatigued
 Practice of movements that mimic the physical demands of soccer
 Low-volume, high-intensity workouts to maintain sharpness
 Regeneration and recovery from rigors of games and practices


II. Age-Based Concept Progression
We recognize the need to train players of different ages in a developmentally-appropriate manner. As explained below, training varies based on player age:
Youngers: Olders:
-exercises performed with body weight -exercises performed with external load
-develop understanding of how exercises relate (i.e. dumbbell, medicine ball)
to movements in soccer (i.e. a squat and its -build stronger lower bodies
relation to a jump or change of direction) to withstand physical demands of soccer


III. Injury Prevention
Not only does training create stronger and faster players, it reduces their risk of injury. The expertise of Catz Physical Therapy is of paramount importance when it comes to the LA Premier FC training program. The two most common types of soccer injuries are due to:
1) Overuse (i.e. quad, hamstring, groin, and hip-flexor strains/pulls)
2) Lack of strength to overcome force (i.e. ankle and knee sprains)
A majority of injuries occur when a player's body is put into novel positions. Striking a ball repeatedly, quickly reacting to change direction, or withstanding force from an opponent all force a player's body into a variety of positions. Catz trains players to have physical skills tested and challenged in a controlled environment so that in a chaotic game environment players can flow in and out of physically demanding situations in an explosive yet safe manner.
Injuries occur in predictable patterns:
1) In the beginning of the season, athletes are at risk for injuries related to lack of strength and preparation.
2) As the season progresses, the number of injuries stemming from overuse become more prevalent.
Injuries occur in soccer. The key to reducing your child's risk of injury is proper training.
Catz provides age-appropriate training that produces strong, durable players.